Sunova Board Bag

// Review
19 September 2016

By: Andrew Cassidy
Location: Sydney

I haven't had a lot of luck in the past with protectively sheathing my pride and joy.

There was that time I flew to the Goldy for a comp with a cheap, light-weight cover and consequently had to madly tape up an open wound (in the shape of a baggage handler's steel-capped boot) on the underside of my brand new comp board, the night before my first heat. Then there was that time I over-cautiously double-bagged my custom Indo board for the long flight to Bali only to get stung at the check-in counter for running 10 kilos over budget. And finally that time I folded my heavy duty, 10'6" cover around my 7'4" Noosa bound grovel board and strung it up with rope and tie-downs, then had to carry an awkward, off-balanced, stupid looking package from the furthest carpark to the terminal at Sydney airport ... and back again.

This time would be different. The 2016 Aussie Titles were being held a couple of flights away, across the Nullarbor, and I wanted to get my protective packaging right. I fully researched the web but to no avail - nothing looked much good or the right size.

Coincidently, I was chatting to AA from Balmoral Paddle Surf and he happened to mention he was in possession of an unused sample of a soon to be released Sunova board bag that he claimed to be one of the best board bags he'd ever seen. I told him I'd take it - sight unseen.

I picked it up and wasn't disappointed. This thing was a work of art. You could literally hang it on a wall as a textile masterpiece. Oh and the quality!

The 5mm foam padding provides ample protection from all kinds of knocks and bangs while remaining light enough to avoid excess baggage charges. After four flights my board returned home without a shatter, indent or ding and even with a couple of wet wetsuits thrown in for the return journey, I didnít have to pay a cent for excess baggage.

These Sunova covers come with a zippered expansion joint around the tail which is a really great idea because it allows you to leave your fins in the board during casual day trips once at your destination or if you plan on using the cover for everyday use while at home. Then, when jumping on a plane or a boat for a long channel crossing, take the fins out of your board, zip up the expansion joint and the cover nicely hugs your tail without any excess material flapping around.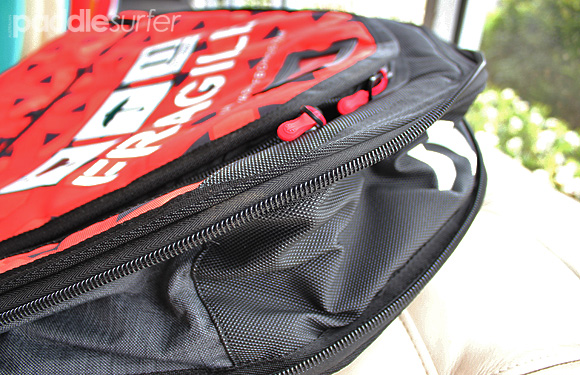 Expansion joint open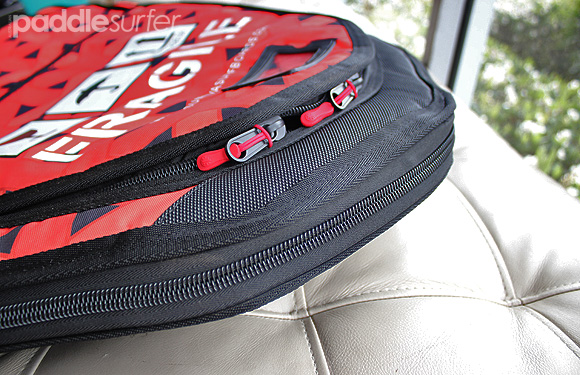 Expansion joint closed

Extra, heavy duty, textured PVC material has been included around the nose and tail along with thicker 10mm foam padding. This provides exceptional reinforcement for those high traffic areas and it looks like it would stand up to even the roughest baggage handlerís poking, prodding, scraping and sliding before ever looking like penetrating this protective barrier.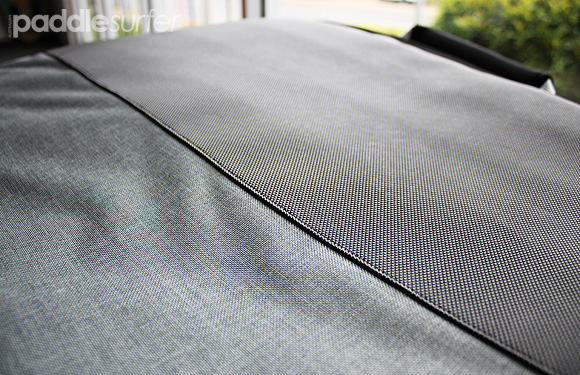 Heavy duty PVC reinforcement where needed

Handles are abundant on these things. Everywhere you would logically want to pick up the board from, thereís a handle. The shoulder strap on the side is the most versatile for longer distances and itís very comfortable, adjustable and strong. The shoulder strap is also easily removable so you can tuck it away when itís not needed - like on the roof racks. Thereís a handle in the middle on the edge which is great for moving the board around short distances or sliding it along the ground while in the queue at the airport. There is also one on the nose which could be used to drag the board along the ground with or without first strapping a wheelie bag to the tail. These are all great, but the best handle is the one in the middle, on the face of the cover, right where the handle on the SUP would be. We are all used to carrying our boards from here so why not have that option on our board bags too. Any SUP cover without this centre handle isnít worth buying. Sunova have realised this and feature this handle on all their bags.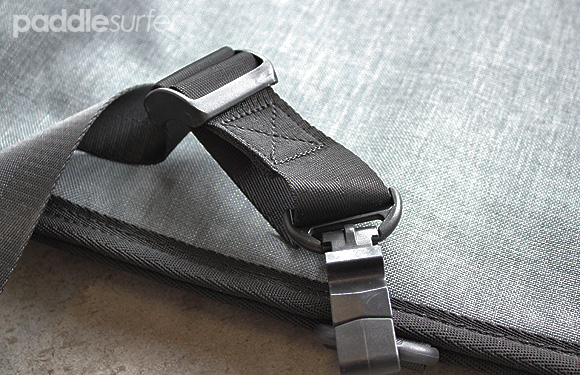 Functional, adjustable, comfortable, durable and removable shoulder strap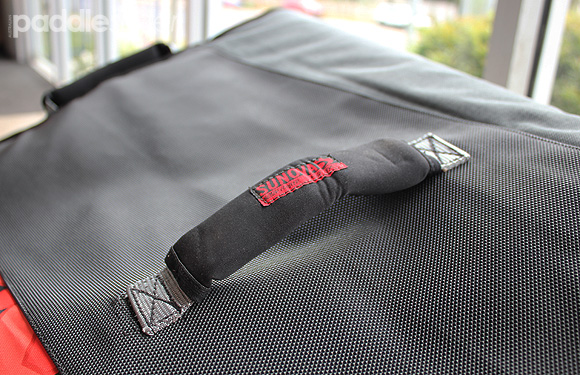 Super useful centre handle

A (physical and metaphorical) silver lining is provided by the colour of the inside of the bag. This provides a form of heat shield from direct sunlight and could save your pride and joy from a nasty delamination incident if left exposed for any length of time.

Sunova covers now come in 24 different colours and patterns. Yes, you read that correctly - 24! The range is awesome and will keep even the most fashion conscious of us extremely satisfied. So just when you have spent weeks deciding which board to buy, now you also have to choose what design to have on itís cover. First world problems.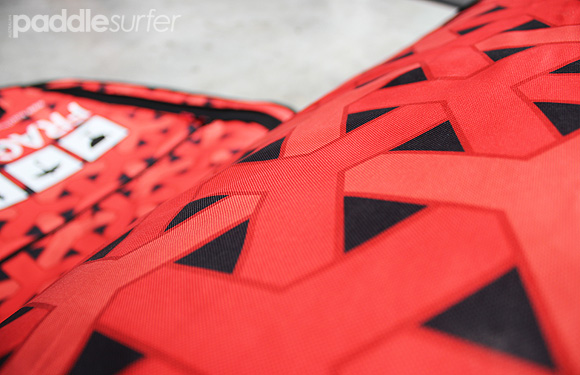 One of the 24 stunning fabrics to choose from

Thereís nothing worse than having an ill-fitting cover. Too big or the wrong shape and you are going to have floppy bits which can flap in the wind or get caught on stuff. Too small and youíll always be struggling to get your board in or maybe you wonít be able to do up the zipper. Sunova have solved this problem by providing their covers in 35 different sizes across 6 different outline shapes. So whether your surf SUP is a Sunova or not, one of these covers is sure to fit perfectly (Benny Mardon - sorry, you are exempt from this claim).

Every board bag should have a storage pocket for fins, leg ropes and other accessories. Sunova have included a generous, zippered storage pocket in their bags which is accessible from the outside so you donít have to undo all your good packing in the main bag to access things from here quickly. This pocket is located over the tail pad of the board inside so if anything in here were to get squished against the board it will have the maximum protection from the tail pad and kicker acting as a buffer.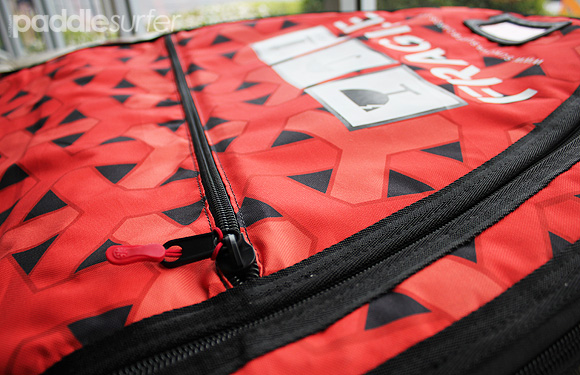 External, zippered storage compartment

Highs
- Light weight for its protection capability
- Plenty of handles just where you need them
- Looks awesome
- Heavy duty zippers look like they will last forever
- Comes in all kinds of sizes and shapes
- Includes all the essential features youíd want in a cover
- Production quality and materials should stand up to plenty of handling abuse.

Lows
- Creates a hard decision of what design to choose
- Short wait time required to order a specific size and colour if not in stock.