Sunova 12'0" Search

// Review
29 October 2016

By: Andrew Cassidy
Location: East Coast

It was good that morning, real good. A head high south swell was pushing across the peak making the classic lefts a bit too fast, but the rights looked super fun. There was zero wind, resulting in oily smooth conditions for the local crew that were out there. The rights were just perfect for high performance SUP surfing. What a shame that SUPs are banned out there. After a lot of deliberating, I decided to hit it anyway.

I grabbed the Sunova Search 12 footer and paddled out. As I approached the lineup, daggers started flying from every eyeball out there. "Don't bring that thing anywhere near us", was non-verbally yelled at me from the local elders, stalwarts and even pre-teens.

I took the hint and begrudgingly paddled in an arc away from the crowd and out around the point to a little reef setup that I knew would be OK too.

A whole heap of really fun waves later, I returned to the carpark where one of those old sea dog types was hanging around the back of my car. He glared directly at me as I approached. "Here we go", I thought. "I'm going to cop an ear-full here". He started strong but then soon warmed up and actually seemed quite interested in my boards - maybe he was a closet SUPer or maybe he was one of those staunch haters, on the cusp of being converted.

Hey man, you can't ride those things here!
Oh ... yeah, nah - I was just surfing around the back of the point. There was nobody out there so I thought it'd be OK. There's no way I'd ever go out the peak on a SUP.

Hmmm OK, and what's that massive thing you're riding?
Ohhh - it's the Sunova Search. A 12 footer. They do it in a 14 as well but this is the 12. It was one of the first boards they designed way back in the day and it was supposed to just be a bit of a cruiser or a tourer or something but it actually goes unreal in the surf. That was my first surf on it and I think I'm in love.

Yeah? Must be hard to turn though?
I thought it might be, seeing it's just got a big single fin but I was really surprised at how well it grinds out a big cutback and it comes off the bottom really nicely too. There was one wave where I did a cutty and then came around and hit the foam - it was fully rad. If you get right back on the tail, it really turns on a dime.

Looks like it paddles well too?
Yeah, did you see me paddling up the lagoon - it was hammering. Well I suppose I had the tide with me then but it does paddle really well. It's pretty flat for a surfing board so it cuts through the water beautifully. It is such a breeze to paddle out after a wave - so easy, no effort required. It punches through white water nicely too - much better than a big board with a mal shaped nose. I don't think I missed a single wave I paddled for. You see a wave coming and commit and the big girl will just run it down for you.

That flatness make it hard to take the drop?
Well it was pretty sucky out there but it was fine. You do have to get into them early and set your line before it dredges but once you're going it holds a line beautifully even through the little bowl section. I think the pulled in nose helps with that too as it never caught an outside rail on any of the racey ones.

And the stability?
It's 30 wide which makes it very comfortable. I didn't fall off for the first hour or so that I was out there. A bit embarrassing as I'd just got out of bed, my hair was doing all kinds of crazy.

What's the weight like?
Well it is 12 foot long and 180 litres so it's going to weigh a bit but it's really not too bad. The LiftSUP handle helps too and makes it easy to carry long distances or maneuver it around, like getting it up onto the roof of the car, etcetera. You can use the handle to lock it up with a chain too - it's a great concept. You just have to make sure to watch out for the little pool of water that can get get trapped in there until you turn it fully upside down - usually when you are standing directly under the handle.

So better for small waves or big stuff?
I think I've just determined it works awesomely in small surf (chest high) but I reckon it would absolutely excel on a big bombie or out one of the reefs on a massive day. It looks like a gun, hey? You can tell just by looking at it that it will go off in some juice. I was making mental plans, while I was out there, of where I should take her next time a big south swell hits.

So who should get one of these?
Ha - I think everybody could do with one of these. A rank beginner who wants to start out on the flat water and do a bit of cruising, somebody who wants to dabble in a bit of ten foot plus competition but doesn't want to miss catching the best waves in a heat, anyone who wants to go paddling or surfing with their dog sitting on the front, those guys that charge the huge stuff, somebody who wants to do technical racing in heavy surf and wants to make the wave riding legs super easy and anybody who wants surf little waves or has a massive paddle out to their local break.

And what's that one? (points to another Sunova he spotted in the back of my car)
Ah, that's a new Flow 7'10". I've been stinging to get my hands on that and give it a try but I thought I'd take the Search out for a couple of quick ones first. That was two and a half hours ago and the Flow is still dry! I just couldn't bring myself to come in and swap it out. I was having way too much fun on the Search. The Flow will have to wait until tomorrow.

So, overall a super fun surf on a super fun board, I didn't get beaten up and I may have even converted another shortboarder to the wonderful world of SUP.

Highs
- Beautiful shape and curves
- Super strong construction
- Impeccable workmanship and materials
- Super stable
- Extremely versatile for all kinds of conditions and uses
- Glides through fat sections beautifully
- Turns great for a big board when back foot is right back
- Effortless to paddle out the back or to remote breaks
- Paddles into waves fantastically
- Punches through whitewater really well
- Comfortable and grippy deck pad
- Big enough to take a friend with you (furry or otherwise)
- Retractable LiftSUP handle means no more stubbed toes.

Lows
- Production version only comes as a single fin.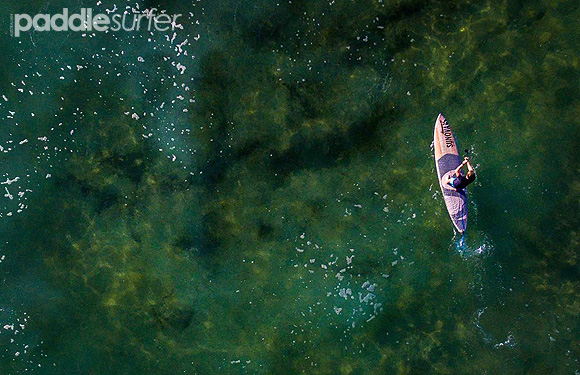 A great paddler to remote locations. Photo: Jeremy Corne Photography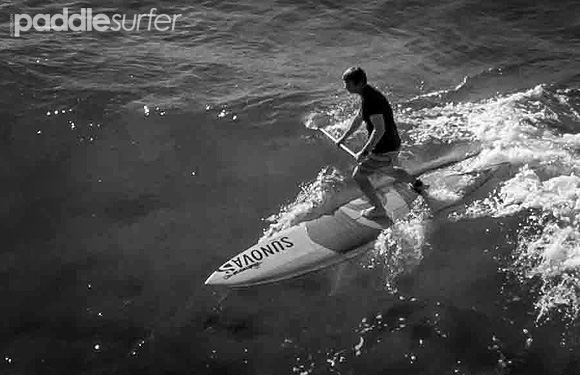 Trimming. Photo: Jeremy Corne Photography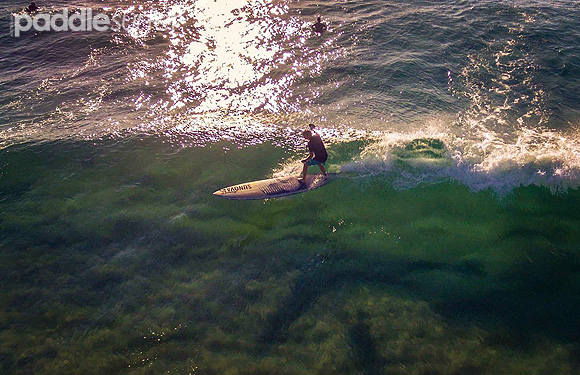 Ohhh - the glide. Photo: Jeremy Corne Photography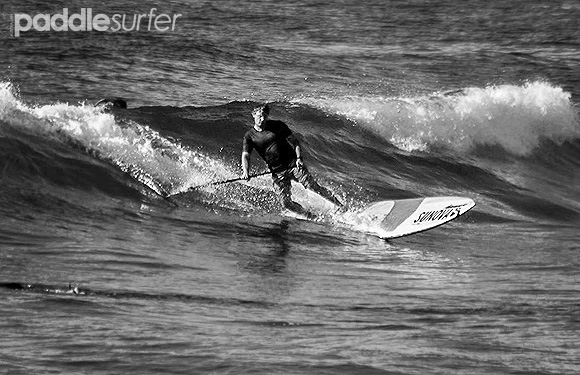 Can bottom turn. Photo: Jeremy Corne Photography