Sunova 8'10" Steeze

// Review
13 September 2017

By: Andrew Cassidy
Location: Northern Beaches

Back in the early days, 2008 I think it was, I remember seeing a young Matty Lumley absolutely ripping on a PSH All Rounder down at the Mambo Merimbula Classic. It was about nine foot long and, like a lot of SUPs from that era, it had a big rounded nose. I was on an 11 footer at that event and the thought of riding a tiny nine foot SUP freaked me out a little bit.

The other day, I took the new 8'10" Sunova Steeze for a test run and to be honest I was a little freaked out about riding such a BIG performance SUP - but that was before I'd snagged 15 or so nice little rip bowl runners on her.

I felt like I was surfing just like Lummers, all those years ago - the Steeze's quiver killing characteristics had me pulling out all my traditional longboard moves yet it allowed me dabble in some high performance stuff, exactly like a Mambo champion of yesteryear.
Disclaimer: The 8'10" Steeze won't necessarily help your performance with any dance floor antics at Merimbula's Club Sapphire.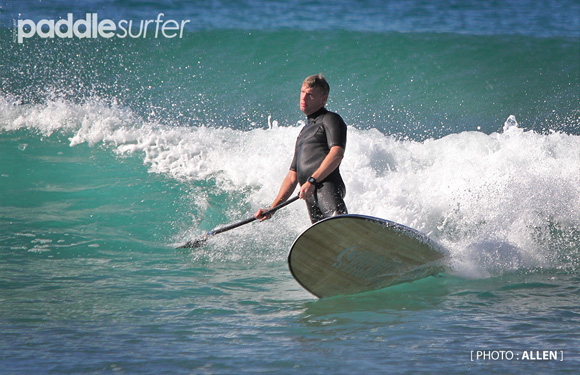 Old school moves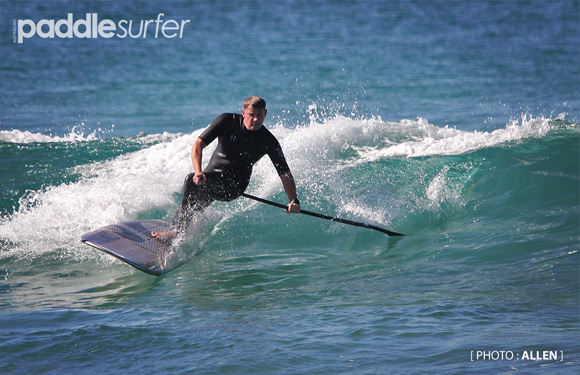 Easy to have fun with

With its 110 litres of volume (20 more litres than what I normally ride) the 8'10" is so stable and so easy to pick up waves on. Even though it is only 8'10" it feels like a much bigger board to paddle especially when you look down at the big round nose and 30" of width. But that's all good - you want as big a board as possible when paddling. You just don't want a massive board when you are on a wave. And the Steeze isn't a massive board when you are on a wave. The back half of the board (the bit that is mainly engaged in the wave when surfing) is quite refined with a pulled in rounded pin tail, chiselled high performance rails and substantial vee in the tail which allows you to transition from rail to rail with ease.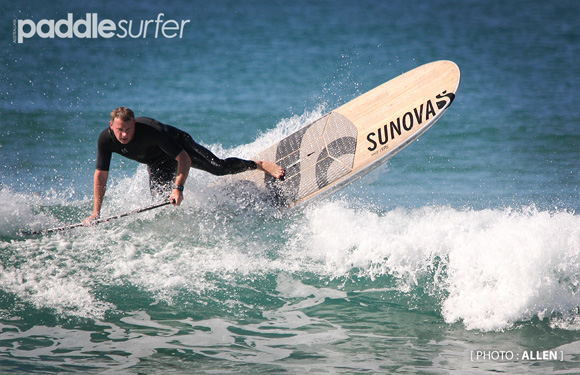 Can get critical if required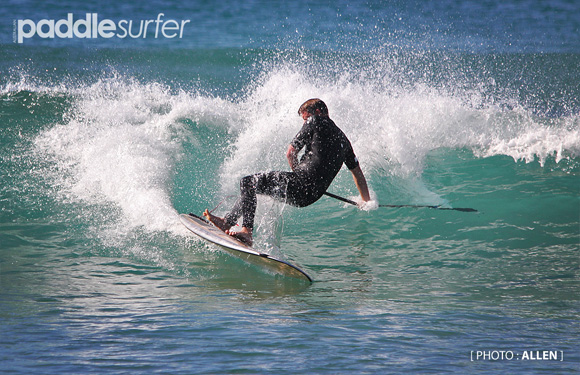 Still small enough to throw around

The wide nose of the 8'10" Steeze provides a lovely stable platform if you are inclined to take a walk but the narrow tail of this mid length beauty provides an agile power source for the occasional snap or tail waft.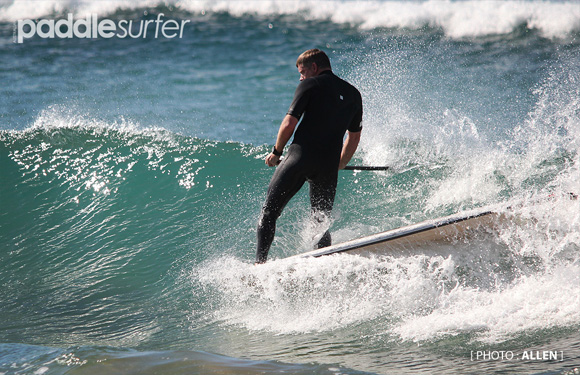 Doesn't mind a bit of a walk

Like all the other Sunovas I've ridden, the tail pad kicker is in just the right position. When you shuffle your foot all the way back to stomp on the tail and crank a turn, you'll feel that comforting ledge against your fifth metatarsal and you'll know that's exactly where Bert Burger wants you to be to start getting radical. And speaking of things in the right position, Sunova have nailed the LiftSUP handle position in this model too - the perfectly balanced, pull out handle makes carting the Steeze a breeze.

The performance oriented rocker not only allows tight turns in and around the pocket but it also means you can step back when a mini mountain of white water approaches, rock the nose skyward and pop over frothy hurdles like that with relative ease.

The two plus one fin configuration in the Steeze is perfect for this type of board. It allows one to experiment with differing sizes of longboard style setups or throw in a more performancey thruster cluster.

I'm thinking, with its longboard looks yet high performance characteristics and length, the 8'10" Steeze might just be on its way to bringing the mid-length pleasure craft back into fashion. Even in competitions.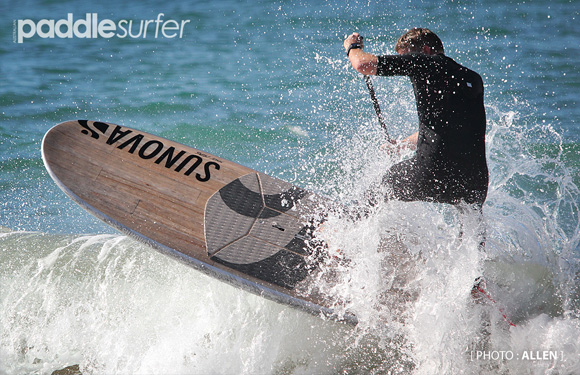 Versatile in all parts of the wave

Highs
- Just plain fun and easy to ride
- Looks awesome
- Super strong construction
- Impeccable workmanship and materials
- Paddles into waves fantastically
- Pops over whitewater quite easily
- Can be used to throw the tail or whack the lip
- Doesn't mean you have to forget your traditional longboard moves
- Comfortable and grippy deck pad
- Retractable LiftSUP handle means no more stubbed toes
- Can be locked up (via the LiftSUP handle).

Lows
- Makes you regret buying those last three boards of varying sizes.